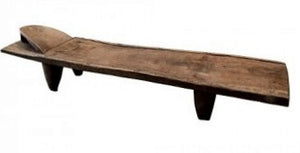 Senufo Beds are uniquely hand carved from one solid piece of wood from the Senufo tribe on the Ivory Coast, Africa.
This unique piece is truly stunning with thick tapered legs and is over 35 years old, This is a rare and extremely hard piece to source. 
Height 40cm x Depth 45cm x Length 1.9m
Please email decoco.home@yahoo.com.au to confirm freight charge any where in Australia or alternatively to arrange collection from North Richmond, NSW 2754.