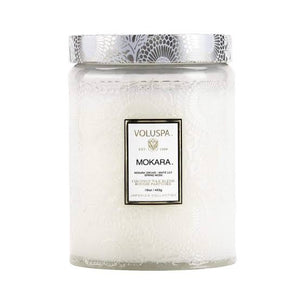 Voluspa is a true handcrafted California luxury. 
The proprietary formula starts with cold-pressed coconut oil from fresh fruit. The oil then sustains hydrogenation and is turned into coconut wax with a beautiful, creamy white consistency.
Hand poured creamy coconut & apricot wax, Each candle burn leaves a lasting scent for days. 
The sublime Mokara 100hr Candle combines Mokara orchid, white lily and spring moss, creating a light, clean scent like no other.
510g (100 Hr Burn Time) 
9.5cm x 13cmH