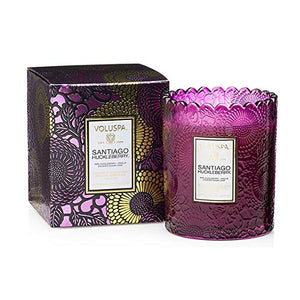 Voluspa is a true handcrafted California luxury. 
The proprietary formula starts with cold-pressed coconut oil from fresh fruit. The oil then sustains hydrogenation and is turned into coconut wax with a beautiful, creamy white consistency.
Hand poured creamy coconut & apricot wax, Each candle burn leaves a lasting scent for days. 
Santiago Huckleberry fragrance has been infused with delicious notes of ripe huckleberries, vanilla pods and sweet sugar cane. Hand poured in the USA using a natural wax formulation and cotton wick.